SALE!
🔍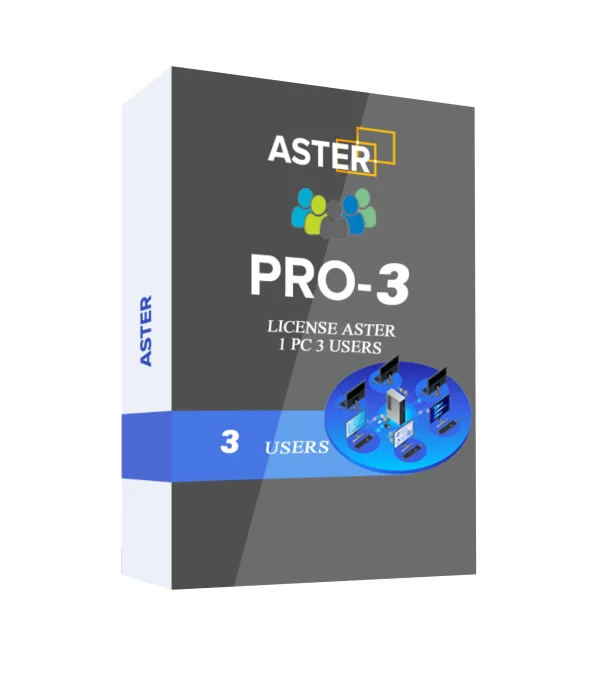 Aster Pro 3 Multiple Software (Up To 3 Users, MS Windows 7/8/10/11, Lifetime License)
Pro license for 2, 3 or 6 workplaces:
valid for a lifetime;

allows increasing the number of workplaces by activating another (basic or additional) license;

the license can be transferred to other equipment;

can be activated or transferred to another PC only in its entirety – partial activation on several computers is not supported.
After the license key is activated, it is tied to the HWID of the equipment, and this information is stored on the activation server​​​​​​​. In the future, the license key can only be used on the PC on which it was activated, and in order to restore the license (for example, after reinstalling Windows), all you need to do is activate ASTER with the same key.
HWID consists of the HDD​​​​​​1) and CPU serial numbers; any other equipment can be changed without losing the license.
Using the​​​​​​​  deactivation  procedure, you can transfer the license to other equipment​​​​​​​​​​​​​​.2)
1) HDD or SSD on which Windows is installed
2) for example, to a new PC or to replace the HDD / CPU
Description
Best Multiseat Software Aster Pro 3
A single computer that supports numerous concurrent independent local users simultaneously is known as multiseat software. Aster Pro 3 is one of the finest multiseat software that offers you the accessibility of having numerous workplaces to exist within a single PC. With ASTER-Pro 2 you can organise and integrate new workstations by attaching more monitors, keyboards and mouse to a single base device, making it easier to conduct computer classes. You can create a great internet cafe, have workstations at libraries or even at home with Aster Pro 3.
For streamers or professional YouTubers who work on a dual monitor set-up, you can also utilize Aster Pro 3 as one of the best Multiseat Software. Turning a single PC into a Multiple system with the utmost convenience, Aster Pro 3 offers versatility and comfortability in its technology.
Making use of Aster Pro 3 is guaranteed to serve a multitude of purposes.
Convenient and cheap

Requires lesser investments than building several workstations on several desktops

Minimises the costs and maximizes efficiency and affordability.
Hence, using Aster Pro 3 is known to be beneficial.
Why Should You Use Aster Pro 3? 
Well, It's simply the best multiseat software. Here's why, with a simple configuration system, it allows easy installation and a free trial period.

Aster Pro 3 is a straightforward tool to install and use. Saving both space and electricity. When installed, your electricity usage can be reduced.

Since Aster Pro 3 does not require thin clients or terminal stations, you can compare it to several multiseat programmes.

Aster Pro 3 upholds affordability norms as it is the most affordable way to create many workstations.
Hence, using Aster Pro 3 only has benefits — the comfortability of several workstations through a single desktop that allows convenience and usability.
What Is Aster Pro 3? Information About Aster Pro 3
Aster Pro 3 is a multiseat software. With the use of this program, which is called ASTER, many users can operate a single computer as if using a personal computer. Aster Pro 3, hence, is a PC multiseat tool for Windows XP/7/8/10/11. By connecting additional monitors, keyboards and mouse to a single base device, ASTER-Pro 2 enables the integration of new and multiple workstations.
Using one external monitor for the second user, along with the keyboards and the mouse is the most straightforward approach to using Aster Pro 3, on a laptop. Both users can control the access of data stored on the computer's disc and work with several applications simultaneously. Aster Pro 3 allows easier and more accessible applications while being environmentally friendly. It also saves up on space and electricity. A perfect purchase to make, as it cuts down on the costs of requiring more than one PC set-up.
Simply put, you can save money by allowing two users to share a computer by using our multiseat software, Aster Pro 3.
What Are The Benefits Of Aster Pro 3?
As a multiseat software, Aster Pro 3 has various benefits such as:
Easy accessibility and usage: As a program, Aster Pro 3 is an easy program to install and run.

Saves electricity and space: You can cut down on your electricity usage when you install Aster Pro 3.

Comparable to other multiseat programmes: Programs such as Userful, MS MultiPoint, Betwin, etc can be compared to Aster Pro 3 because they don't require thin clients or terminal stations.

Create multiple workstations at the cheapest rate: You can save a lot of money on purchasing additional computers. Affordability standards are maintained by Aster Pro 3.

Ability to design various workspaces: With Aster Pro 3 in venues like libraries, internet cafes, offices, schools, etc. you can design many workspaces.

Single desktop for multiple students: In classrooms, a PC set-up for multiple students can be created within a single desktop.

Noise level reduction: Aster Pro 3 is a multi-seat system that lowers noise levels by removing extra system components.

Multiple workspaces with unhindered network: Having multiple workplaces does not result in network traffic load. Anyone can enjoy easy surfing.

Less upgrading cost: There is a reduction in the costs of upgrading.

Optimized latest versions: The latest versions have been optimized.

Compatibility: Aster Pro 3 is compatible with a wide range of devices such as microphones, video cards, speakers, tablets, card readers, displays, etc. It also works well with wireless devices.

Smooth functioning: Applications that use video and 3D graphics run smoothly on Aster Pro 3

Windows 10/11 compatibility: Unlike other clients, Aster Pro 3 is Windows 10/11 compatible.

Computing resources: Aster Pro 3 requires nothing special when it comes to computing resources.

Saves resources: Aster Pro 3 is software that believes in resource saving.
How To Use Aster Pro 3 Software?
Aster Pro 3 is simple to set up and use. You can use it with following steps:
Following installation, Aster Pro 3 will instantly identify every monitor you have attached to your computer and generate a unique desktop for each.

Your computer will instantly start up when you switch it on, allowing users to access their allocated computers right away with no further setup required.

After configuring the software, you can activate Aster Pro 3 and operate additional workstations immediately.

To turn on Aster Pro 3, remember to press 'Enable ASTER' and the 'restart' PC button on the General Tab that can be seen in the ASTER Control panel. Your computer will restart immediately, with the software working as intended to.
How To Install Aster Pro 3 Multiseat Software
To Install Aster Pro 3:
Install the Aster Pro 3 software and make sure to run the installation package setup. It'll be a .exe file.

Read the software description and agree to the Aster Pro 3 end-user licence agreement.

After clicking on "I agree to these terms and conditions" you'll be taken to the next section, where you can see two options and settings-
Optimize the Power Supply Parameters

Disable Fast Boot
You are suggested to click on both of these options for better use of Aster Pro 3.

Click on 'Install' and you're good to go. Windows may restart after your installation.
The file ASTER containing 3 shortcuts, will be added to the Start Programs menu once Aster Pro 3 has been installed. The three shortcuts are:
The Control Panel where Aster Pro 3 can be configured and turned on or off.

A User Manual to Aster Pro 3.

User's Licence Agreement
Restart your system for the next process of installation.
Information About Aster Pro 3 Licensing And Terms
Following are the various types of licenses for Aster Pro 3:
Basic Licensing
Includes licenses for 2-6 workplaces

Valid for a lifetime

Can only be fully activated or moved to another PC. Partial activation on different PCs is not valid or supported

License transfer to other components is allowed
Home Licensing
Includes licenses for 2 workplaces

Valid for a period of one year

Required to buy a new basic or home license in order to continue using it even after the first year, since it works as an annual subscription

No extensions above 2 workplaces

can be transferred to another system, since the latest version
These were the licensing terms of Aster Pro 3.
Further Terms Specify
You must agree to abide by the License's terms once you install Aster Pro 3 on your computer.

You are not permitted to proceed with the installation and use the software if you disagree with the License Terms.

The legal owner is the sole owner of all the property rights, the copyrights of Aster Pro 3 and all of its parts.

The application needs to be activated using an Individual Serial Number that is stated in a relevant certificate.

Aster Pro 3 is activated once for an indefinite period of time utilising the Remote Activation offered by the legal owner. The activation can only work upon receiving the Activation Key.

The Activation Key is compatible with the computer's hardware. It could be necessary to reactivate Aster Pro 3 in the event of your computer's hardware being replaced.

If Aster Pro 3 is installed on a different computer, another Remote Activation is required.

You are permitted to run Remote Activation of Aster Pro 3, a maximum of 4 times under the terms of the current license.

The license grants you a one-time right to use Program ASTER prior to performing Remote Activation for the first 10 days, after the program launches for the first time on your computer.

Aster Pro 3 can only be started upon the completion of Remote Activation after the stipulated trial period.

You are authorised to use Aster Pro 3 in accordance with the conditions of this License if you possess the original Certificate of Authenticity for Aster Pro 3 that includes the program's unique serial number.

An extra License Certificate that is issued independently and presented to legal bodies confirms their authorization to use a specific version of ASTERPro-2.

The License Certificate is still required and the Certificate of Authenticity will not grant permission for legal entities to proceed with the installation and use the specified version of Aster Pro 3.

If you are in agreement to the terms of The License at the time of transfer and in the presence of the original Certificate of Authenticity of Aster Pro 3, you have the right to transfer (in simpler terms, to install it again) Aster Pro 3 onto other computers a maximum number of times specified under the Quantity of Activations. An important note is that it is necessary to remove the previous installation of Aster Pro 3 from the computer.

It is not permitted to utilise two or more installed versions of Program ASTER simultaneously.
These are some of the Licensing Terms of Aster Pro 3.
PRO-3 (3 Users, Windows 7/8/10, Lifetime License)
Reduces your company's TCO. With an affordable price and compatible with most hardware on the market, ASTER Software makes it possible to save money on equipment purchases, because you don't need to buy extra computers or be tied to proprietary solutions. You can use ASTER with the equipment available in your company depending only on the ASTER version and the capacity of your computer. See here for guidance on hardware specifications
Low noise
​ All workstations, except the main one, are free of the noisiest component, i.e. the CPU, which is significant in production environments where extraneous noise can be distracting and impair users' productivity.
Less space
As ASTER Software makes it possible to share your PC for several users at the same time, your technology structure will occupy much less space, which allows you to make more efficient use of your facilities. The availability of ASTER editions for a different number of workstations (from two to twelve) provides an ideal version for your particular case. There is no need for a local network between stations, as all stations work from the same computer. The Internet and peripheral devices (printers, scanners and more) are automatically accessible from all workstations.
Electricity Savings
It 's no secret that the CPU is the biggest energy consumer of a conventional workstation. Using ASTER, you can scale down the energy consumption of classrooms, libraries, offices and Internet cafes.
Lifetime License
Using the deactivation , you get a new key and can transfer the license to another computer. In case of HDD or Motherboard loss, contact the ASTER Software technical support service via email feelopie@gmail.com Opensto request a new key.
What can you do with ASTER Software?
The application is capable of creating up to 12 multiterminal stations on each computer;

Each user is able to load a customized desktop;

It is compatible with Windows 7, 8, 10, 11 and Windows Server 16/19 versions;

It is capable of automatically adjusting the operating system's power supply and loading settings;

Allows the monitor to turn off and enter sleep mode;

Automatically creates a backup copy of information about active licenses, which are on the program's licensing server;

It has a license recovery assistant;

It has a 14-day implementation period;

You can transfer licenses to another computer;

When creating workstations individual video cards with all their monitors can be assigned. Thus, each workplace can use a separate graphics card (such a scheme is recommended for better execution of graphics applications, including games);

Sound cards can also be assigned to the workstations or they can be common to the set of stations;

Workstations can be set up so that when turning on the computer, entry into the system will be performed with specific user credentials;

If the computer is connected to a domain, you can configure automatic login to this domain;

Workstations can be assigned different IP addresses;

Software is available for download and licenses are sent via email.
Minimum hardware requirements for 3 stations
– Processor: Core i3 from the 3rd generation
– RAM: 16GB
– Video card: GT210
Compatible with:
Windows 7 *
Windows 8
Windows 8.1
Windows 10
Windows 11
Windows Server 2016
Windows Server 2019
* ASTER Software does not work on Windows 7 Starter